Blog
UX Design Trends That Will Dominate in 2023/Blog
UX Design Trends That Will Dominate in 2023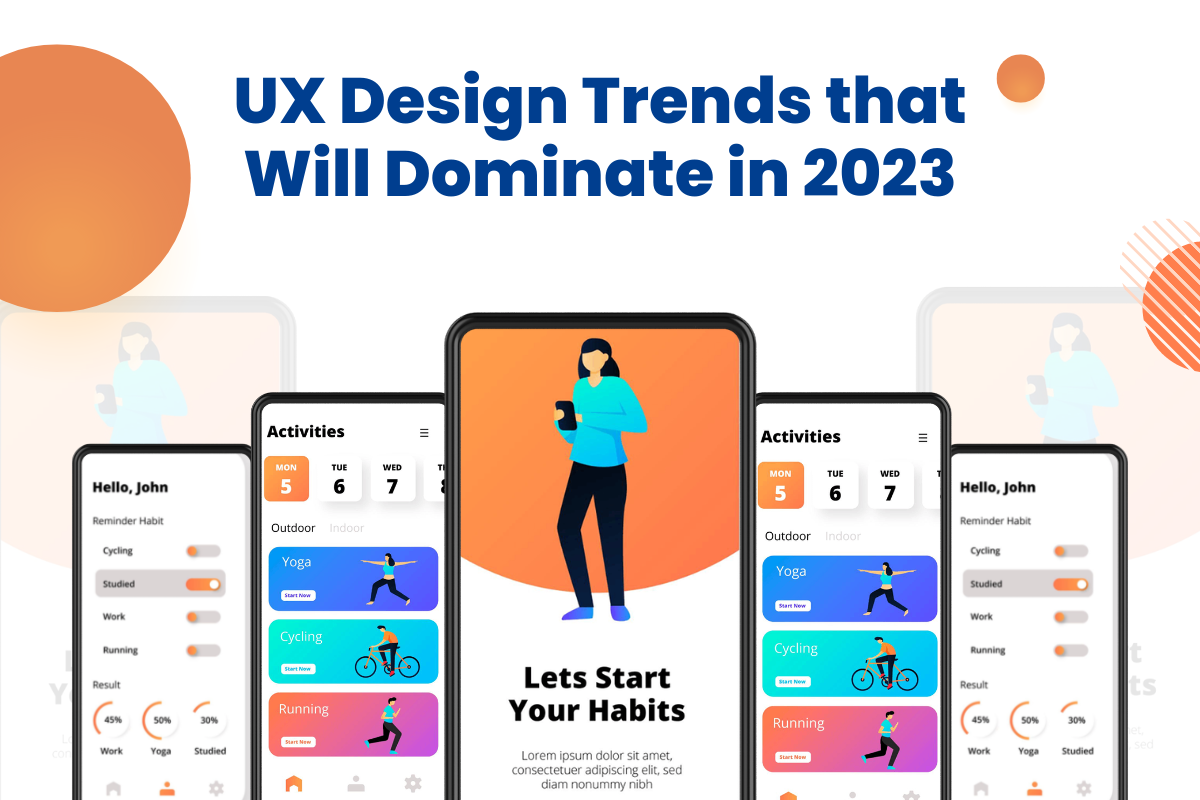 In terms of UX design trends in 2023, feature-rich, visually stunning sites will dominate. Consumers are increasingly turning to companies for amusement to escape the usual constraints of daily life. And websites are changing to accommodate this trend. To build engaging brand experiences, designers are turning to artificial intelligence, hover effects, and novel navigational techniques. Here is the top upcoming UX design concepts for 2023 that will improve user engagement with immersive 3D settings. A visually engaging website is the best way to convert visitors into buyers.
Top 6 UX Design Trends for 2023
1. Hover effect for product disclosure
UX design trends for 2023 prioritize the experience over speed and usability. It's about creating special memories through brand interactions rather than quick user journeys.
This interactive puzzle's unique component is hover effects on your product images.
So how does it appear? Users are introduced to a product, or new information about a product through an animated product reveal in the form of a hover effect.
It provides more details about its capabilities and demonstrates how to use it for consumers.
Many websites allow customers to alter the product, giving them the opportunity to get a better concept of how it might look in a real setting without having to physically visit a showroom or store. This can be very helpful when buying clothes and cars. This effect might even be used by some designers to tease impending goods or services.
It's a fun method to pique visitors' interest in your company and encourage them to click a call to action, like signing up for email updates.
Hover and scroll effects are used by Volvo and many other automakers to expose the interior and other aspects of their vehicles.
Things to Think About While Creating Hover Affect
Consider intent while developing with the reveal hover effect. Do you want to demonstrate cutting-edge features, demonstrate how to use it, or tease a future product? Design with intention. The performative action should result from the effect. Users can want to buy the good or service, find out more about it, or schedule a face-to-face meeting.
It's a creative method to depict the unknowable; for instance, an app listing for an apartment can include images that indicate what a closet or storage space would look like. By including this layer of interactivity, you can keep users interested and make your product stand out from the competition.
2. Sophisticated Scrolling
Last year, one of the UX design trends was cutting-edge scrolling; this year, it has grown to even greater proportions.
Consider your interactions with your favorite websites and apps.
You can browse them in a variety of ways, including asymmetrically, in several directions, and even by combining scrolling with zooming and rotating actions.
The website of Agence Cartier employs a variety of scrolling techniques.
Parallax scrolling is among the latest trends in UI/UX Design. It adds depth by using different scrolling rates for items on a single page. Particularly, the background scrolls more slowly than the primary material do.
A step further than this, sophisticated scrolling adds additional layers of fun and stimulation with distinctive images. Users are given more insight into your brand's personality, which should help them relate to you more personally.
For a more immersive experience, this website employs motion and parallax scrolling via Repeat.
According to Humana Studio, horizontal scrolling is making a comeback, especially for creative websites.
3. Brand Interaction Issues with Dwell Time
This UX design trend, where "dwell time" refers to the amount of time a user spends on the website, emphasizes the importance of creating a distinctive, personal, and memorable brand experience over creating a website that makes it easy for consumers to find a CTA quickly. By fostering more interactions with people, brands seek to showcase their personalities. To do this, they frequently use various technologies, including augmented reality and artificial intelligence.
Experience is increasingly taking precedence over usability on new websites. Businesses now understand the importance of invoking the right emotions in the users for the best results.
Our online time should be more purposeful and engaging, given that individuals spend an average of approximately 7 hours worldwide daily. Since the Metaverse was first introduced, a chain reaction has taken place. Businesses are now utilizing their online presence to provide immersive experiences that allow people more freedom, fulfillment, and opportunity for individual expression. Use this trend with caution: If most of your target audience is mobile or has a slower internet connection, think about creating a more conventional experience.
One use case of the trend is the website about Masar in Mecca, which offers visitors the chance to engage in an online learning experience.
Another example is Star Guardian, immersive websites may be a fantastic tool for video game marketing.
4. Interactive & Unconventional Navigation
Navigating through websites has become more enjoyable. Another top UX design trend is interactive, crazy navigation embellished with animations, amusing menus, hover effects, and wacky layouts.
Alfa Charlie, a creative studio, adds tasteful interactivity to their hamburger menu.
These distinctive navigational elements enhance user engagement by creating the impression that they are on an adventure while using your website, continuing our previous trend. To break from our habit of clicking through the static pages of another hamburger, it combines elaborate scrolling, hover, and reveal effects on navigational menus. It invigorates your dropdown menus and interactively leads your user as naturally as possible from point A to point B.
Examples of Interactive & Unconventional Navigations in Play
Utah Jazz, an NBA team, has an interesting website for their retro jerseys that features unique and interactive navigation.
RLY utilizes interactive circles to navigate their social connections through RLY.
5. Converting Negatives into Positives
Many people are searching online for entertainment and solace due to the increased unpredictability of current affairs—even when they get lost! It all comes down to making the annoying error messages and wait times associated with 404 and loading sites into good experiences.
By The First The Last, Irina Horbunova, and Shulgina Julia, this 404 page contains floating bubbles with graphics that bring some inventiveness to a page that one wouldn't expect.
Fils De Graphiste's website has a charming cursor that chirps and releases music notes when clicked while it is loading.

25% of internet users will quit any website that takes longer than 4 seconds to load, and brands need to be aware of this. So, if a 404 or loading page is required, make sure it has crazy animations, entertaining videos, or humorous artwork that matches the tone of your business.
Interactivity will keep visitors interested and intrigued by your brand experience rather than prompting them to leave.
Give your users a fun, easy activity to complete while the experience loads. For instance, if it is a content-heavy experience that needs a loading signal. It highlights the humorous, human side of your business while enhancing cohesiveness and uniformity in your design.
Giving the user action and instructing them on how to proceed properly is also crucial. Nevertheless, you can include this in your animation. Visitors will be grateful for the care and consideration put into every area of the experience, which will increase their faith in your company and help you connect emotionally with your audience.
6. AI Sophisticates the Chatbot Sphere
User expectations for chatbots have soared as AI developments become more commonplace. There is a tremendous drive for chatbots to feel natural rather than clumsy and constrained because people want to feel like they are speaking to a human. The design saves the day once more in 2023, when more chatbots are predicted to be integrated into apps and websites.
The tech industry is heavily investing in machine learning as the demand for high-quality customer service increases. AI and machine learning will make improved customer experiences and human-like chatbot discussions possible. These chatbot improvements include using more natural-sounding language, better grammar, a more comprehensive range of vocabulary, and even the capacity to recognize typos and spelling mistakes.
User trust in your brand will increase if chatbots can swiftly and efficiently answer their problems. If they have a positive experience with your customer service, they'll be more likely to tell their friends about it. So, make it simpler for users to communicate with your chatbot. Utilize AI to ensure the bot asks the appropriate queries at the proper moments and takes pleasure in the advantages of a committed consumer base.
Final Thoughts

UX Design Trends of 2023 will have a massive impact on how certain businesses interact with one another. Hence, it is best to keep tabs and incorporate these elements into your website for better user engagement and conversions.
Hire experienced UI/UX design services providers with a comprehensive UX design website templates portfolio to get the best results.
Recent Posts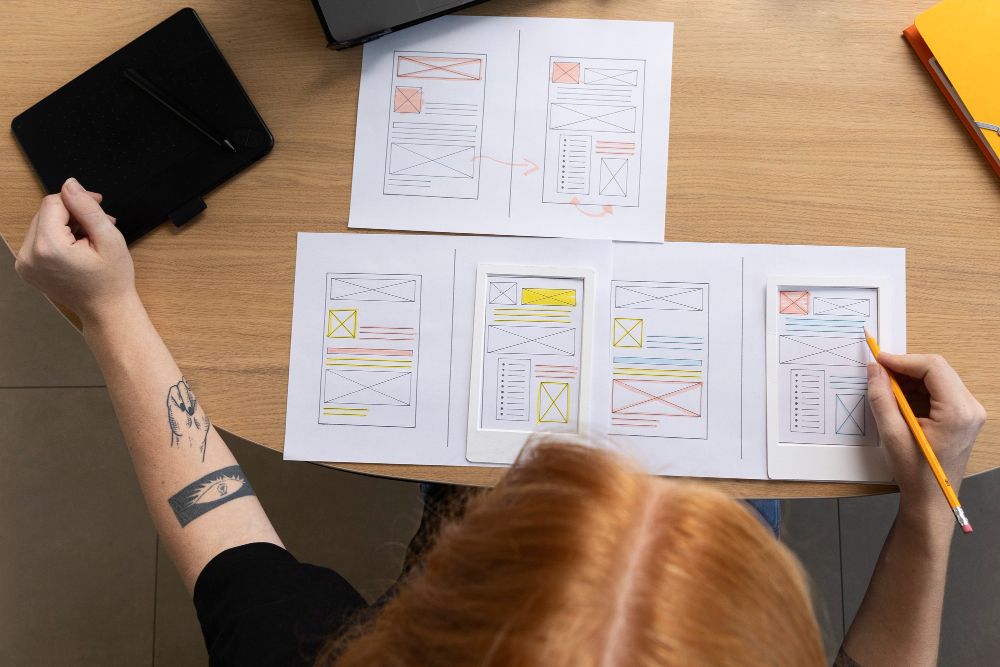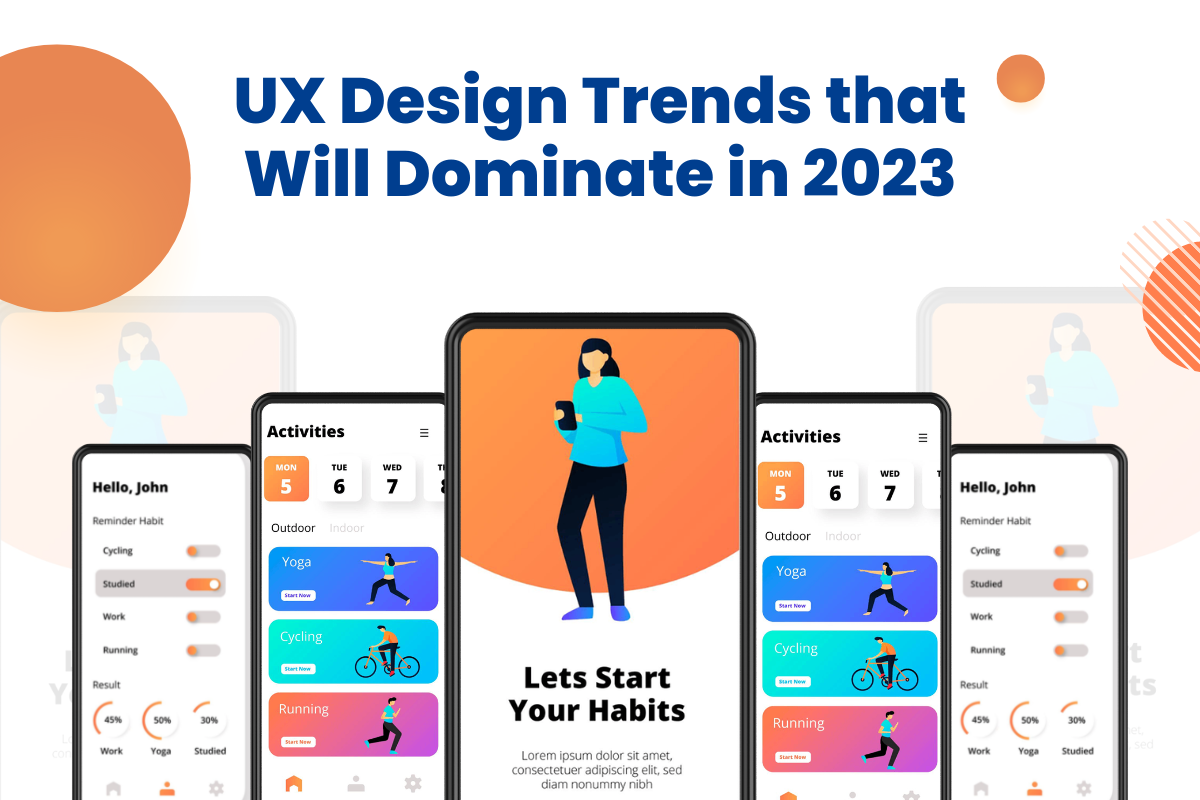 Categories
Request for Consultation